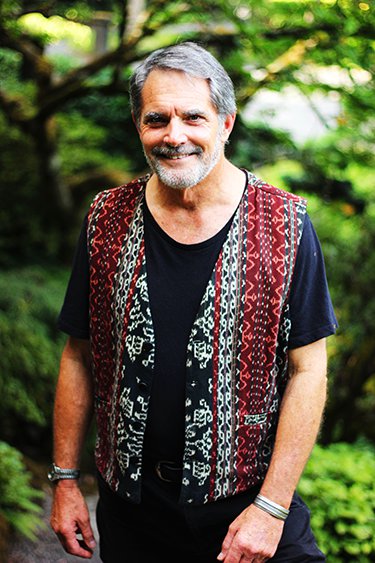 A soulful storyteller, creative teacher and dynamic performer, Will Hornyak weaves world myths, local tall tales and original creations into unique, well-crafted and engaging performances, workshops and keynotes.
A life-long traveler he has worked as a newspaperman in South America, a fisherman in Alaska, a carpenter, farm hand and university instructor. Stories, poems and songs of work and labor find common ground with Irish myths, Mexican fables, Grimm's fairytales and Oregon tall tales in Will's highly imaginative performances.
Will teaches storytelling in professional communication at Marylhurst Univ. in Portland, Oregon and performs throughout the United States.
"Storyteller Par Excellence"
The Oregonian newspaper
"A storyteller of enormous power and presence."
Rev. Marilyn Sewell, 1st Unitarian Church, Portland
"Warmth, wit, wisdom…"
Rebecca Hom, Artistic Director, Forest Storytelling Festival
"Listening to Will spin a tale helps bring a fellow back to life again."
Ray Summers KOIN TV
Main Stage
Will has been a featured performer at regional and national storytelling festivals including: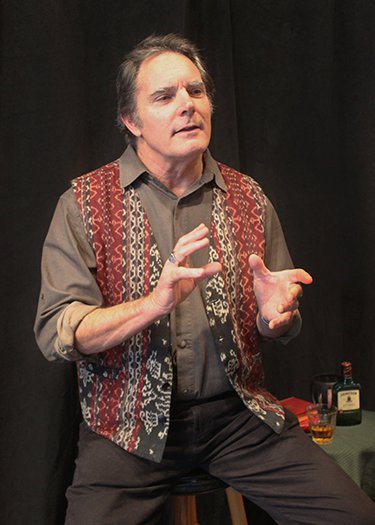 National Storytelling Festival , Jonesborough, Tennessee
Mariposa Storytelling Festival, California
Bay Area Storytelling Festival, California
Forest Storytelling Festival, Port Angeles, Washington
Skagit River Poetry Festival, La Conner, Washington
Tapestry of Tales, Portland, Oregon
Hearing Voices, Washington County, Oregon
Power of Poetry Festival, Hocking Hills, Ohio
Solvang Storytelling Festival, California
Fisher Poets Gathering, Astoria, Oregon
"Profound myths right beside outrageous tall tales. Brilliant."
Allen Cohen Director – Power of Poetry Festival Ohio
"Will takes us right into the heart of his stories. Attendees always ask for him to return."
Pat Peterson Emcee Forest Storytelling Festival
Read more about recent shows, performances and workshops.
Board Room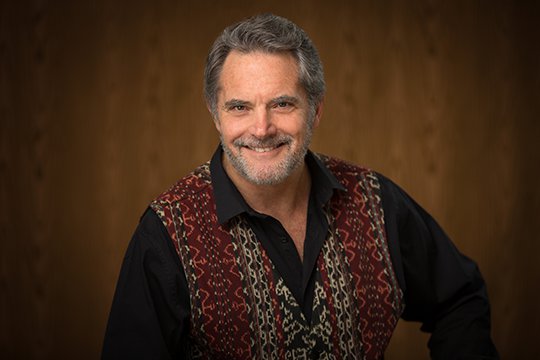 Will has provided storytelling workshops for Intel, Doc Martens Shoes, Carrefour (Europe), the American Cancer Society, the Oregon Department of Corrections and numerous other organizations in developing and telling stories that communicate their values, vision and mission. Created the M.B.A. class "Myth, Metaphor and the Bottom Line" for Portland State University.
"Will has had a profound impact on our clients' understanding of the importance of storytelling in organizational communication. He is masterful storyteller and teacher."
Joseph Chehouri "WDHB International Consulting Boulder, CO
"Will's workshop was one of the most valuable our team attended. He brought us directly into the storytelling process."
Tim Syfert Johnson Controls, New Holland, Michigan
Read More about professional workshops and keynotes.
Classroom – Library – Summer Camps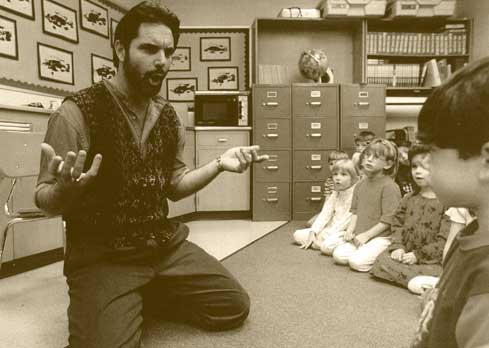 From Russian fairytales and Native American legends to Irish myths, Oregon tall tales and lively participation stories, Will weaves a wide variety of oral traditions into engaging and educational assembly performances, workshops and residencies. Honored as Artist of the Year by Young Audiences of Oregon. Frequent guest in K-12 schools, offering assemblies, workshops and residencies. Awarded the Brimstone Grant by the National Storytelling Network for the K-6 environmental assembly program "Living Streams: Stories for Healthy Watersheds" performed for over 60,000 students throughout the Northwest.
"….a storyteller's storyteller. He can surprise, intrigue, captivate and touch all ages."
Christene Caton former Education Director Young Audiences of Oregon
"You're the funniest most serious person I ever met."
Oregon fourth grader
"Exceptional storytelling and profound environmental messages. Students were riveted by Will's stories and came away with an understanding of local watersheds and how their actions can make a difference."
Melody McMaster Gaston, Oregon Elementary Teacher
Read more about storytelling for schools, libraries, summer camps, etc.
Change Agent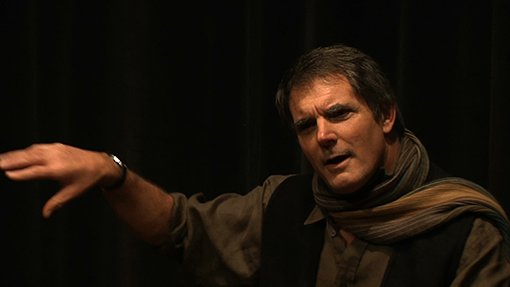 An advocate for storytelling as a change agent in personal and collective life Will works with a variety of non-profit organizations including "Open Hearts, Open Minds," which integrates dialogue groups, storytelling and theatre into Oregon state penitentiaries. He uses storytelling to inspire discussion among youth and men in detention centers, county jails and state prisons in Oregon.
A founding member of the Northwest Mankind Project he has facilitated workshops for Portland Central City Concern, the American Cancer Society, Portland Old Town Clinic, The Intertwine Alliance, Mercy Corp International and Hospice of Southwest Washington.
"It has been a great pleasure to watch Will bring prison inmates under the spell of his storytelling magic. For a while, no one feels like they're in prison."
Johnny Stallings Executive Director Open Hearts, Open Minds
"I have seen Will's storytelling open dialogue and discussion among men that leads to healing and growth."
Scott Stephenson, Mankind Project Northwest
Read More about non-profit workshops and keynotes.